A premium sports activity vehicle with all-road capability and dynamic driving characteristics
Have you ever found yourself in a situation where you were stopped at a traffic light and some kid pulls up next to you in his late model Chevrolet Camaro with a V6 engine (or something similar) and you know that once the light turns green, he's going to floor it? Now how satisfying would it be to look in your rear view mirror a few seconds later to see his embarrassed face after you beat him in that acceleration run while driving an SUV? If that's your idea of a good time, then take a look at the 2012 BMW X3 xDrive35i.
When we were first introduced to the BMW X3 in 1994, it had many things going for it. The SUV drove and performed like a sports sedan, its engine was silky smooth, it handled well, and it felt solid. However, the interior materials were sub-par for its class, its acceleration although competent, was nothing memorable, and it rode stiffly. BMW called it "a premium small sports activity vehicle with all road capability and unparalleled driving dynamics."
The BMW X3 was completely redesigned for 2011. BMW says that this second generation X3 "builds on the success of the original by developing its core competencies while adding new technology to establish new benchmarks for agility, efficiency and driving comfort." The X3 is relatively unchanged for 2012 other than modifications to optional equipment and packages.  We had the chance to drive the 2012 BMW X3 xDrive35i to see if it lives up to BMW's claims, or if they failed to deliver on any of them.
Our first impression of the 2012 BMW X3 xDrive35i is that it's larger, sportier, more elegant and roomier than the previous generation. Up front, you'll find BMW's signature dual kidney grille, large angled headlights accented with chrome trim, a distinguished bumper with integrated round fog lights, and a hood with flowing character lines running down to the dual kidney grille. The side profile also displays a door handle level contour line that flows gracefully from the front wheel arches all the way to the back of the vehicle. It also wears 18" alloy wheels with run-flat all-season tires. The rear is characterized by horizontal lines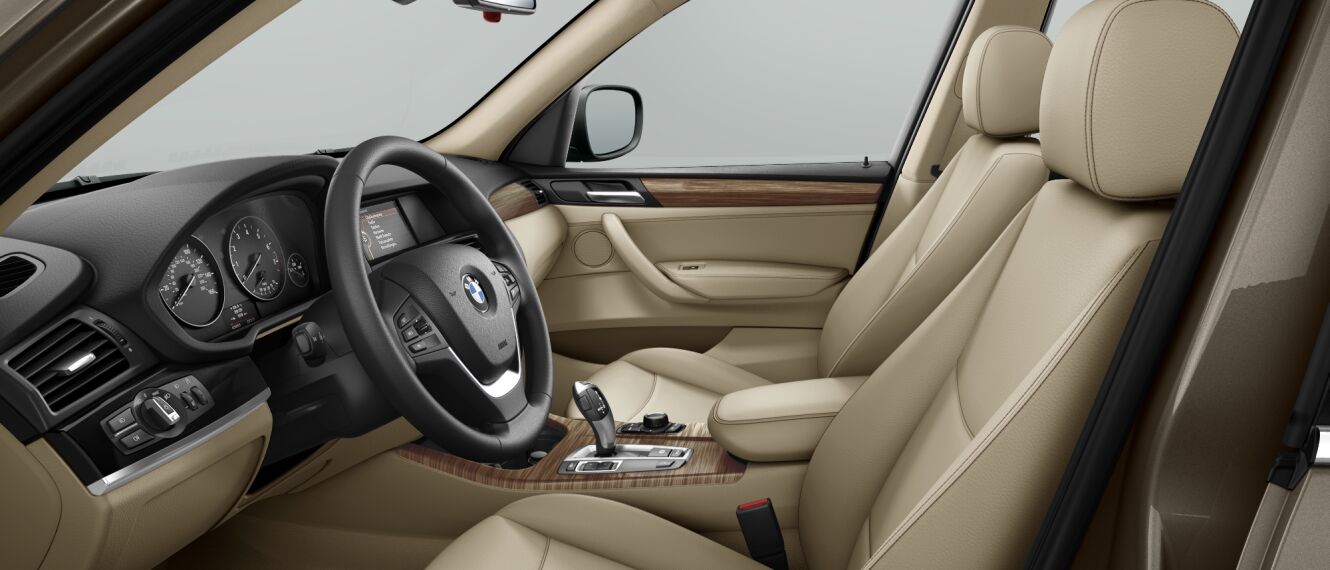 and bold taillights.
We found the interior of the X3 comfortable, tasteful and roomy with outstanding forward visibility. It boasts a premium ambiance worthy of a luxury auto maker. Materials are high-grade. The optional Nevada leather trimmed 8-way power adjusted front seats are at the perfect height to facilitate entry and exit and are very comfortable. They also provided a commanding view of the road. Unfortunately, leatherette is standard which is disappointing because the X3 is a premium vehicle. Rear seat legroom is generous and the seats are comfortable for two adults. A third person in the middle would fit, but would be a squeeze.  The standard panoramic moonroof is large and airy. The 3-spoke leather-wrapped steering wheel tilts and telescopes, and provides controls for the audio system, cruise control, and Bluetooth. Fit and finish are well executed.  The center console is angled towards the driver. The center display incorporates the optional navigation system and iDrive display in an easy to read 8.8 inch screen. The controls are logically arranged, but those initially unfamiliar with modern BMW's may need time to acclimate themselves to the iDrive system and other controls.
The BMW X3 xDrive35i is a lot of fun to drive especially for an SUV. It's turbocharged 3.0-liter inline-6 cylinder engine with direct fuel injection, and twin-scroll turbo technology catapults this 4,222 pound vehicle from 0 to 60 mph in just 5.5 seconds. There is noticeable throttle lag when you accelerate the X3 from a complete stop, but it wasn't long enough to dampen my fun. However, turbo lag is unnoticeable. I also drove the X3 xDrive28i which is rated at 240 horsepower at 6,600 rpm and 230 lb-ft of torque. With this engine the X3 sprints from 0-60 mph in 6.7 seconds. This definitely feels quick enough for anything you'll need on public roads and is quicker than the previous X3 xDrive30i. In both models, the 8-speed steptronic automatic transmission displays buttery smooth and fast shifts. I can understand why BMW doesn't offer a manual transmission on the X3, but I would still love to see one available. The standard xDrive intelligent all-wheel drive system does a fantastic job transferring all the power to the street without any drama. Normal torque split is 40% front / 60% rear. Up to 100% of torque can be sent to the rear automatically if wheel slip is detected. The optional variable sport steering is weighted just right. Our X3 also came with the optional Driving Dynamics Control selector. This feature provides three settings that tailor X3's shock absorber firmness, throttle response, transmission shift characteristics, power steering assist level, and dynamic stability control mode based on your preference and mood. The three settings are Normal, Sport and Sport Plus. I found the Normal mode to be best suited for comfortable cruising and optimized efficiency, the Sport mode best for spirited driving without sacrificing comfort, and the Sport Plus mode the most fun, but not really suitable for most driving on public roads since it holds the gears way too long before shifting.
The ride is well dampened and very comfortable. In Normal mode, there is minor float which is reduced further in Sport mode. Handling is also impressive for an SUV, but isn't as sharp as most lower, lighter weight sporty cars. During high speed maneuvers, it feels a little top heavy, but you always feel in control. After all, this is a BMW. Braking was excellent with short stops and a nice pedal feel. The sound of the engine is harmonious throughout the rev range and has a smooth and rich sound. You can hear some wind noise at higher speeds but isn't bothersome.
The cargo area is spacious for a small SUV and has between 19 and 56.6 cu.ft of storage space. The standard rear seat backrests fold at a ratio of 60/40. Optional is a fold ratio of 40/20/40 to accommodate skis or long pieces of wood. The X3 also has several storage compartments, trays and cup holders.
The 2012 BMW X3 is available in two trim levels. Both include xDrive all-wheel drive and an 8-speed automatic transmission. The xDrive28i has 240 horsepower and starts at $36,852. The xDrive35i is turbocharged with 300 horsepower and starts at $42,400. Prices can skyrocket once you add on additional options and packages.
After driving the 2012 BMW X3 Xdrive35i, we were definitely impressed. It is the quickest and most fun compact SUV available today. It offers dynamic driving characteristics that you can change at the push of a button. It's agile, comfortable, sporty and elegant. Finally, at 19/26 city/highway mpg, it's the most fuel efficient vehicle in its class when all are equipped with the V6 engine. BMW got this vehicle right and didn't disappoint in its claims.
Vehicle type: Front Engine, xDrive all-wheel-drive system, 5 passenger, 4-door, SAV
Base price including destination: $43,275
Price as tested: $47,875
Horsepower: 300HP @ 5,800 rpm
Torque: 300 lb-ft @ 1,200 – 5,000 rpm
Transmission: 8-speed steptronic automatic transmission with Sport and Manual shift modes and Adaptive Transmission Control
0 – 60 MPH: 5.5 Seconds
EPA Rating (city/hwy): 19/26
Recommended Fuel (Octane): Premium-grade Unleaded (91 Octane)
Curb Weight: 4,222 lbs
Maximum Towing Capacity:  3,500 lbs